ABOUT US
GravOxy programs enable individuals of any age and fitness level to move their body in ways that are comfortable and achieve significant health and wellness benefits. GravOxy can be gentle enough for a patient confined to a wheelchair, yet challenging enough for an Olympic athlete.
Our bodies were built to move, run and walk. However, in today's society, we are too sedentary. This negatively impacts our quality of life and in too many cases is fatal. Studies have linked physical inactivity to more than 5 million deaths worldwide per year, more than those caused by smoking.
GravOxy Fitness is dedicated to making fitness a natural part of everybody's lifestyle with programs that comfortably challenge while providing amazing and stress free health & wellness benefits. At the core, GravOxy believes fitness should be enjoyable.
GravOxy believes exercise should not be about beating yourself up and feeling pain. To the contrary, you don't take your car down a potholed road if there is a smooth one to take. GravOxy classes are strain free on your joints.
GravOxy Fitness emphasizes individual alignment and natural movement. We believe fitness should be adaptive to the individual.

GravOxy Fitness is all about the comfortable challenge. Our workouts actually produce more energy as you progress.

GravOxy Fitness provides layers of creative movement that always keep the workouts interesting and challenging.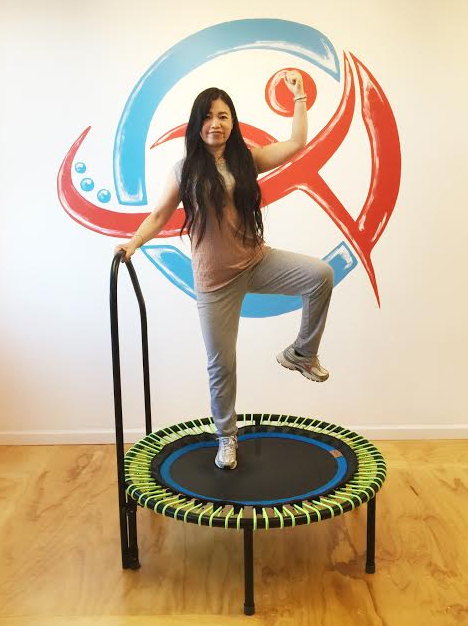 Joanne Schmalenberger – Founder of GravOxy
Born with Lyphangioma, Joanne has been fortunate to experience amazing life lessons that have impacted her career as an an "outside the box" wellness educator & fitness trainer.
She has dedicated  herself to a life long  pursuit of learning that has taken her throughout the world to do study fitness modalities that emphasize natural body movements. This journey has taken her beyond traditional fitness domains to study biology, physiological anatomy and physics. From this awareness, she has been able to create fitness training protocols that focus on strengthening cellular development in the body.
Her fitness programs do more than generate impressive physical and mental results, they provide an enjoyable means for people of all ages and skill levels to maintain their life long commitment to health.
Joanne was responsible for bringing Yamuna Body Rolling into Canyon Ranch.
Joanne attended the Art Institute of Boston and Emerson College.
She has trained and certified hundreds of personal trainers, physical therapists and massage therapists in Rebounding.
Master Reboundologist and Educator – Level 3
Stott Pilates Training
Anasura Yoga & Hatha Yoga Training
FitCamp Fitness Instructor Training Camp (Boston University)
ResistaBall Instructor Training
Level-3 Yamuna® Body Rolling Trainer
Smart Bells® Instructor and Educator
Reiki Practitioner Master 1 (Regis College)
Thai Massage Energy Healer – Level 1 Training
Lomi Lomi Massage Therapy – Level 1
Yamuna Body Rolling Master Trainer, Educator & Bodyworker – Level 4
Feldemkrais / Integrated Core – Level 1 (Switzerland)
AFAA Personal Trainer & Fitness Instructor Certification